The Children's Library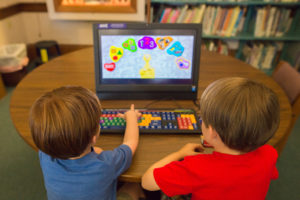 CHILDREN'S FLOOR
Filled with books, magazines, DVDs, AWE Computers, building blocks, and stuffed animals, the separate Children's Floor is a space where children are encouraged to be themselves and explore the joy of learning.
BOOK PICKS
Families can now get a collection of library materials expertly curated by your Children's Librarians in three easy steps. First, visit our
Book Picks webpage
to fill out your
Book Picks Book Quiz. Second, wait for a notification from the Library. Third, pick up your materials and enjoy! See the Book Picks webpage for more information or call the library at 724-837-5620 and ask for Jessica, our Head of Children's Department.
OTHER PROGRAMS
Through the calendar year, hundreds of library programs for ages birth to teen promote lifelong learning in a variety of ways. Using resources through the county library system, grants, and staff's planning, the goal is to provide you options of high interest. We strive to meet the needs of all learners. If you have a need or idea, send us a message!
Check our events calendar to see the latest planned events and programs. Track your reading challenges through the platform Beanstack to be eligible to win from our fun prize collections! Visit our YouTube channel for sing-a-longs, book recommendations, tutorials, crafts, and even live chickens. Explore At-home Resources for virtual entertainment and Online Resources for safe databases for learning languages and finding reliable information. Your library card will give you virtual access to the Online Resources.
Follow us on social media for updates and to keep in touch.
If you have an idea for programming, suggestions are always welcome. Use the Contact Us link to send a message, use Facebook Messenger, or talk to a staff member in person or over the phone to share your ideas. We are here to strengthen our communities together!
Recommended Books for Kids